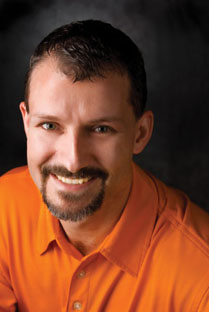 Jeff Little is 40 years old and resides in Whiteland, Indiana, with his wife, Heather, of 18 years, his daughters Andrea, Amber, and Ashlyn, and his son, Graham Robert II. Now in his thirteenth year of ministry of various kinds at Grace Assembly of God in the Whiteland/Greenwood area, Jeff's pathway into ministry was anything but typical.
Graduating co-valedictorian of his high school class in 1989, Jeff went on to Rose-Hulman Institute of Technology in Terre Haute, Indiana, where he graduated summa cum laude in 1993 with a B.S. in computer science and mathematics. Academia always being one of his greatest strengths, Jeff graduated in the top 10 of his college class. During his four years in Terre Haute, he faithfully attended First Assembly of God (now Cross Tabernacle) where, among other things, he met his future wife, got involved in youth ministry, and met his long-time friend and future senior pastor, Wayne Murray. It was during those four years in Terre Haute that the Lord first began to reveal in Jeff his gift of preaching. He would often preach in the youth services, even directing the youth ministry on a volunteer basis for several months when the need arose.
After graduation and his marriage to Heather in the summer of 1993, he moved to the Indianapolis area with his wife where they faithfully attended Calvary Temple Assembly of God from 1993 to 1999. The Lord blessed both his career in the technical field as well as his lay ministry to the youth of Calvary Temple. For those six years he coached the teen bible quiz team and led one of the youth cell groups. The years at Calvary Temple served as preparation for what would be one of the defining moments of his life.
In January of 1999, Jeff's friend and former youth pastor in Terre Haute, Wayne Murray, was barely two years into his senior pastorate at a little church called Grace. Seeing a handful of teens in need of leadership, Jeff and Heather stepped out in faith and agreed to start the youth ministry of Grace Assembly of God from scratch, working on a volunteer basis. For two and half years they drove 45 minutes, one way, to church before being able to move from their home on the north side of Indianapolis to the south side where the church was located. In the spring of 2003 Jeff received his credentials as a Certified Minister with the Assemblies of God, and in the summer of 2003 he officially joined the staff of Grace Assembly on a part time basis as Youth Pastor.
Jeff's ministry has experienced great blessing and favor from the Lord over the past twelve years. During that time, Final Destiny, as the youth ministry was called, grew from just 12 students to as many as 150, and became a highly respected and reputable youth ministry in Indiana. Final Destiny was the top Speed-The-Light giving youth ministry in Indiana for the calendar year 2005, giving just over $30,000 to missions. Jeff's unique style of preaching was enhanced by his technical abilities. He was able to bring creative use of media, technology, drama, and other illustrative methods to his messages which were, themselves, deeply meaningful, biblically sound, and powerfully anointed.
Jeff's energy seemed to know no limits. He served the church in many different capacities as the needs arose. For a time not only did he preach in his youth services, but also led worship and directed the worship band. When the church found itself without a full time worship leader, he led worship in the adult services as well as serving as youth pastor, all the while working a full time secular job (that he holds to this day), not to mention being a husband and father to a growing, young family.
At the beginning of 2006, during a time of church-wide prayer and fasting, Jeff and Heather began to hear the Lord leading them in new directions for ministry. Knowing in their hearts that they had completed their assignment as youth pastors, they resigned the youth ministry of Grace Assembly and began to pursue the next chapter of their lives in ministry as the Lord led them. Since that time Jeff has continued to serve his home church, Grace Assembly of God, as a young adult pastor, media director, technology manager, staff evangelist and teacher. From video production, to drama direction, to dramatic performance, to singing, to preaching and teaching both to youth and adults, Jeff has served the Lord and His church, literally, with all his mind, heart, and strength.
Now, Jeff has responded to the call of God to evangelistic ministry and preaching to the church at large. Since the summer of 2006, God has granted Jeff the privilege of ministering at summer youth camps, youth retreats, young adult revivals, and Sunday services.
Jeff's ministry is both deep in its content and practical in its application. You will be encouraged and challenged, uplifted and convicted, moved and changed by his passionate preaching, always born in prayer and meditation on the word, and motivated by love for God and people. You and your church will be blessed by his dynamic ministry.
A Personal Greeting
I would like to thank you for taking your valuable time to visit this web site. It is my sincere hope and prayer that, after reviewing the information found here, you will be encouraged to grant me the honor and privilege of partnering with you to instill a biblical worldview in the hearts and minds of believers young and old.
For me, ministry has never been about making a living or making a name for myself, but rather about making a difference and making disciples. It is not a career, but a calling, and one that I can neither escape nor ignore. My heart's desire is to invest something in you and your church that will reap eternal benefits for the kingdom of God.
May God richly bless you.